I've been exploring the world of novels for children. There are so many wonderfully imaginative stories to choose from, and I am always adding to the list of my favourite children's writers. I've been a fan of Jacqueline Wilson and Michael Morpurgo for a long time, but today I'd like to share with you a few of my more recent finds.

Ross Welford's The Dog Who Saved the Word is about 11 year old Georgie and her friend Ramzy, and her smelly, eats-anything dog, Mr Mash.    They get to know an ancient and eccentric scientist and virtual games expert, and eventually save the planet from a deadly disease. I loved the characters and the humour. Short chapters. Easy to read.
The Nowhere Emporium is the very exciting and wildly imaginative tale of Daniel, an orphan, who escapes bullies and becomes the loyal apprentice to Mr Silver, owner of a pop-up shop with magical rooms. He becomes caught up in a fight between good and evil, personified by Mr Silver and his arch-enemy, Vindictus Sharpe.
There's another orphan in Journey to the River Sea by Eva Ibbotson. Maia goes to live in Brazil with distant relatives, who turn out to be far removed from the kind and loving people she has imagined. A skilful plot, excellently drawn characters, and a heroine to cheer for.
It's a joy to read adventure stories which inspire me to make my children's book the very best it can possibly be.
If you can recommend other children's authors, I'd love to hear from you.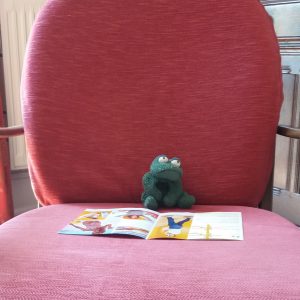 Frog: (Seriously)
Specially if they have frogs as heroes.
Or tadpoles, of course.