There are some fantastic prizes for writers of flash fiction out there at the moment.
Here's a selection of three.
NUMBER ONE: A 6-night stay at Arvon's new writers' retreat in Shropshire, from 6th-12th September
Imagine it. Six nights at The Clockhouse, in the grounds of Arvon's Shropshire writing centre and former home of playwright John Osborne. Everything there is planned to help you focus on your writing, away from day-to-day distractions. You'll have your own apartment, with bedroom, study-lounge, and bathroom, and all food will be provided. The Hurst is set in inspirational grounds with 29 acres of woodland and a spring-fed lake.
Here's what you do to be in with a chance.
Write 500 words, fiction, non-fiction, or poetry, on the theme 'retreat'. Entry if FREE. Submit online by 4th July at
For more information about The Clockhouse and Arvon's other writing centres see the website at www.arvon.org
NUMBER TWO: Prizes £100; £50; £25 in the Rhyme and Reason Writing Competition
Write  story of 400 words, or a poem of up to 20 lines, on the theme Magic and Mystery. There are 3 prizes for stories and 3 prizes for poems. Junior prizes too.
Entry fee £5 (£4 for 3 or more entries; junior entries £1) These fees help to pay for the prizes and any extra goes to a charity called the Rennie Grove Hospice Care, which offers a hospice at home service in the Bedfordshire/Buckinghamshire area.
If you don't win, you still have the chance to see your work in the 2017 desk diary.
Submit online by 1st June at
NUMBER THREE: A prize of £75 for the best flash story by a woman writer in the Hysteria Competition.
Also prizes of £150 for the best short story, and £75 for the best poem.
Hysteria 2016 is a competition for previously unpublished stories of up to 2,000 words, flash fiction of up to 250 words and poetry of up to 20 lines on almost any theme related to women. You are invited to submit an entry in ANY GENRE except horror or erotica.
Entry fees are £5 for short story entries; £3 for flash fiction entries, and £3 for poetry entries.
The competition closes at 11.59pm on 31st August 2016.
You have to be in it to win it!
Why not give one or more of these competitions a try?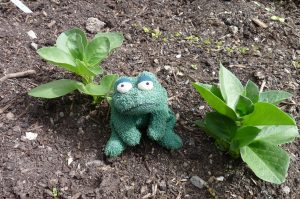 Frog: (patiently)
Sit there and guard the baby broad beans they said. I'm letting ideas grow as well, you know. Multi-tasking, I call it.