I belong to two writers' groups, and today I'd like to tell you about one of them.
The Plymouth Christian Writers

 has a dozen members, and we meet once a month in the Methodist Central Hall, in Plymouth's city centre.
Writing can be a lonely business, and it's good to meet people who not only love writing, they love talking about writing, too. The Plymouth Christian Writers share a faith, too, but that doesn't mean we necessarily agree with each other's points of view. At its heart, the Christian faith is inclusive and tolerant, and I love it that these people are supportive of each other even though they know certain viewpoints would have meant the ducking stool in years gone by.
What do we do?
The group suggests topics for writing in advance. There's no law that says a) You must write about this or else…, and b) You will be excommunicated if you don't bring anything to read out. Sometimes it's useful to be given a topic to write about, and certainly working towards the deadline of the next meeting is helpful to those of us whose minds have a tendency to wander, whether it be to the next meal, the lawn they ought to be cutting, or the next chapter of the book they're not quite ready to write.
For March we'd decided upon 'Customs'. I am always amazed at the number of different approaches that can be taken to each subject, and this was no exception. There is often humour with underlying  compassion from one member, and a new approach to a character from the Bible from another. Among us we have poets, playwrights, a travel writer,  short story creators, writers for children, a novelist, and non-fiction writers. Some of us balance several writers' hats!
After each reading, there is the opportunity for feedback. Of course, a good writers' group strives to encourage its members, and the members of the Plymouth Christian Writers group are good at constructive criticism. For example, praise is given where due, and then, if there are words or phrases that need attention, they are addressed in a positive way.
As the leader of this group I have taken to heart the following advice from William Ryan, historical and crime novelist, in a feature he wrote for the Writers & Artists website.
'Perhaps most importantly, each member of the writing group should take the other members' writing as it is, and try to encourage the other members to achieve their vision of what they'd like their writing to be, rather than impose their own style on someone else.'
If you'd like to read the whole article, go to
https://www.writersandartists.co.uk/writers/advice/1169/a-writers-toolkit/essential-information/
We have occasional visiting speakers and workshops…
… including an open poetry workshop led by Plymouth poet laureate, Mike Sullivan,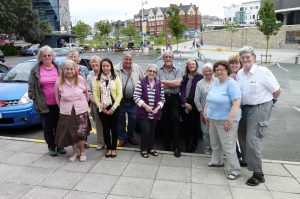 and several workshops  with prolific novelist Veronica Heley
What else do we do?
Over the years we have produced booklets to mark varying times in the year—Christmas, Easter, and Summer  are past topics, and last year we wrote for 'Passiontide 2018', with contributions from ten members.
Our latest venture is 'Harvest' and this month we're working on pieces for our proposed new booklet, hopefully 'done and dusted' (excuse cliché) by September.
When everyone has read out their work, we may have time to spare for a writing game or exercise. In February we had five minutes to write about gnomes. Brains whirred and silence fell. At the end of the time slot we read out what we'd written, and I would be surprised if the people in the Discovery Café didn't hear us laughing.
I love gnomes, so can't resist sharing what I wrote:
The Garden Gnome
Jack's house was by the school bus stop, so he was never surprised when one or more of the youngsters slipped into his garden and moved his gnome. It disappeared once, and he felt sure he saw it looking down from the top of the number seven . It appeared to be eating a Mars bar. Jack thought about getting a new gnome—it had been chipped over the years after all. Three days later he saw someone creeping into his garden. Tough luck, it's gone, he thought. He made his way to the front door. He looked out, and there he was, Freddy, with a new coat of paint and a Mars bar wrapper in his hand.
So, that's the Plymouth Christian Writers.
If anyone in or near Plymouth would like to join us, please leave me a comment and I'll get in touch.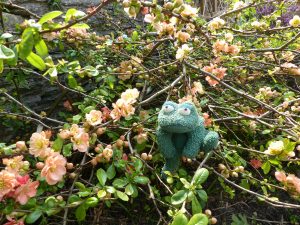 Frog: (Uncertainly) Bit suspicious of gnomes, me.