…………………….. OR MAYBE ON THE LOCAL FERRY

1) READ
Short stories can teach you how to bring a story alive in a few words. Poetry – how to use creative language. Novels – how to set a scene, how to build a plot. Articles – how to maintain interest. Learn to read as a writer. Notice whether a beginning grabs your attention. What makes you want to read on? What seems not quite right or even clumsy? What makes a piece of writing so absorbing, you nearly miss your stop?
2) PEOPLE-WATCH

Without staring of course! Try to do it in a non-judgmental way. 'This is what that woman is like,' not, 'The way she speaks to that child! She needs a slap!'
3) LISTEN
Snatches of conversation, the whine of the engine, the coughs, the sneezes. (Are these small, muffled, and rather delicate, or of a more explosive and generous nature?
4) THINK
Work on a new plot, the opening line of a story or poem, or the next paragraph of your novel. Have silent conversations with your heroine or your antagonist.
5) TAKE OUT YOUR WRITER'S NOTEBOOK
…and make a few quick remarks. Why? Ideas are like helium balloons. Let go of the thread for a moment, and away they go. If something is written down, it's there in your notebook, ready for the moment you're in front of your screen again.
Frog: (thoughtfully)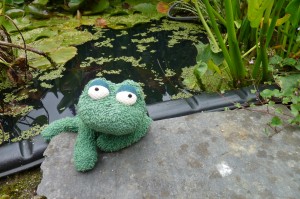 I'm working on 'Five things to do by a pond.'