SARDINE TIN STORIES…….. small yet packed to the brim with flavour
A joke is a type of flash fiction. It has a beginning, a middle, and an end. It has characters, and conflict. It catches the attention, and gets us wondering. What's going on? Can we predict the punchline.
On the other hand…. flash fiction isn't a joke.
The Bridport Prize website offers the following advice to writers.
Flash-fiction often contains the classic story elements: protagonist, conflict, obstacles or complications, and resolution. However, unlike a traditional short story, the limited word length often forces some of these elements to remain unwritten – that is, hinted at or implied in the written storyline.
All that in a limited word count. Mission Impossible?
Not if you
Confine your story to no more than two characters. (Rules are broken sometimes, of course!)

Write about one incident or occurrence

Stick to one point of view.
HINTS FOR BEGINNERS
Make your story stand out from the crowd by adding a touch of mystery, something puzzling that keeps the reader guessing.

Brainstorm plot ideas, and pick the most unusual, the most moving, the most scary……

Don't worry about writing too many words. Edit down later.
Try entering a competition to hone your skill. Here are three of the many current ones.
Brentwood Writers' Circle
For stories of exactly 75 words
Prizes £40; £20; £15
Closing date 30th April
Entry fee £2
Bridport Prize
For stories of up to 250 words
Prizes £1000; £500; £250; plus three of £50 each
Closing date 31st May
Entry fee £8
Rhyme & Reason Writing Competition
Theme: Magic and Mystery
For stories of up to 400 words
Prizes £100; £50; £25
Closing date 1st June
Entry fee £5 (£4 for 3 or more entries; junior entries £1)
I'D LOVE TO KNOW IF YOU WIN A PRIZE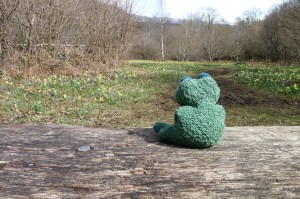 FROG: (Mournfully, and, I might add, ungratefully)
I came here for inspiration, and all I got was daffodils.