AIM: HOOK THE READER'S INTEREST. MAKE THEM START WORKING ON YOUR STORY.
Kate was making toast and listening to the news. Sally was helping herself to cereal, insisting to Tom that it was her turn to have the plastic alien, even though he was insisting he really, really needed that particular one for his collection. Maybe after breakfast they'd play in the garden while Kate did some weeding. She could open up the sand pit, and…
There were four loud raps on the back door. The children fell silent, their eyes on their mother. Kate tried to smile, but her face wouldn't oblige. She walked slowly across the room. She stretched out her hand towards the key, the colour draining from her face.
DON'T TELL THEM EVERYTHING THEY NEED TO KNOW AT ONCE.
I've just finished reading Gone Girl, and Gillian Flynn certainly doesn't tell us everything we need to know. She keeps us guessing throughout the whole book, trying to work out exactly what is happening.
She makes us wait for answers to our questions. There are people in the book I couldn't like at all, but I couldn't stop reading.
SO…. HOW DO WE UP THE TENSION EVEN IF WE'RE NOT WRITING A THRILLER-TYPE STORY?
In BUILDING YOUR STORY, A GUIDE TO STRUCTURE AND PLOT by Kelly Michelle Lawrence (Published by Compass Books, an imprint of John Hunt Publishing Ltd. ISBN 978-1-78279-608-4) Kelly suggests the following as possible sources for adding drama to our writing:
Moments of emotional breakthroughs between characters – forgiveness, break-ups and breakdowns, revealing of secrets, etc.

Unexpected news (usually bad).

One character makes some sort of sacrifice for another or a higher cause.

A reversal of fortune or someone changes their mind about a core issue.

A main character faces a difficult moral choice.

Someone close to the main character leaves town, turns out to have an ulterior motive, or dies.

A pivotal erotic encounter.

Something is achieved which is important to the character and helps with the final showdown.

A breakthough in knowledge.

An unexpected reunion.

A face from the past reappears.
These are all helpful starting points for adding tension to our own stories.
What are we waiting for?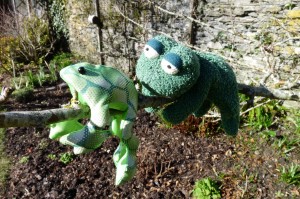 Frog: (Gulping):
He said he'd give me a lesson on tension, and y'know what? I agreed to it!