Autumn's coming, and the nights are drawing in. Imagine a fire just inside the entrance of a cave. Imagine the people gathering around as the evening offers a chilly breeze. A father ruffles his son's hair. A mother puts her arm around her sleepy daughter, drawing her closer. A child snuffles. A baby whimpers. And then the storyteller begins, a tale of huntsmen creeping through the forest, of a strange deer, perfectly white, that stares, haughty and challenging, then disappears into the fading light. Is it the bringer of good fortune or bad? The story-teller smiles. He alone knows the outcome of his tale.
The comforting presence of companions sharing imaginative tales. How humans have always loved stories! And who doesn't love rooting for the hero and being taken on an adventure? Tales of ships in stormy seas, travelling to lands beyond the horizon. Pirates burying treasure on far-away islands. Perhaps the most famous of these is Treasure Island. Originally serialised in the children's magazine Young Folks, from 1881 through 1882, under the title Treasure Island or the mutiny of the Hispaniola, it was credited to the pseudonym "Captain George North". How much more enticing is that than the name Robert Louis Stephenson?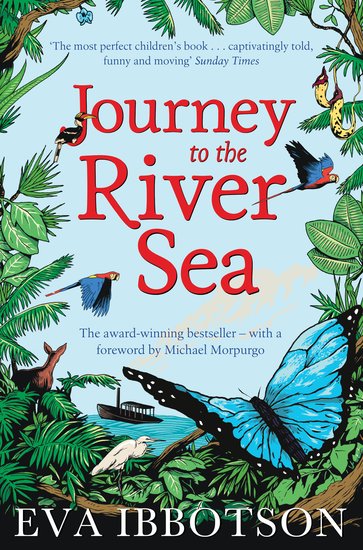 Over the last seventy years adventure writing for children has progressed in leaps and bounds. I grew up with the Secret Seven and the Famous Five, and adventures set in boarding schools, where there were plenty of chums and lots of mysteries to be solved! I still love reading adventure stories for kids. One of my favourites is Journey to the River Sea, by Eva Ibbotson. It's about Maia, an orphan, who can't wait to reach her distant relatives a thousand miles up the Amazon. Instead of her imagined loving family, she finds two spiteful cousins who see the jungle as the enemy. Maia meets a mysterious boy who lives alone on the wild river shores, and begins a journey which takes her to the heart of her extraordinary new world.
Writers of great children's adventure books invite us to suspend belief in the realistic and the sensible, and to go wherever the adventures may lead. Some writers start with the inkling of a plot; some with a character who seems to be calling to them. Some plan down to the finest detail; some make a start and see where the story takes them.
Like all your favourite creators of adventure stories, may we as writers have the courage to forge new pathways into the world of the imagination, and take today's children on astonishing adventures they hope will never end.