I am not Cornish, but I've lived in Cornwall for 31 years, and I claim, perhaps foolishly, to be Cornish by adoption!
However… anyone with an interest in all things Cornish — history, the arts, music, geography, etc — can belong to their local Old Cornwall Society. Our group enjoys talks, visits, spring lunches and Christmas parties. On Saturday 23rd November, the Torpoint Old Cornwall Society hosted the annual Winter Festival, when members of Old Cornwall Societies all over Cornwall and beyond (there are Old Cornwall societies in London and Bournemouth, to name a couple) travelled to this small town next to the River Tamar, for a day to remember.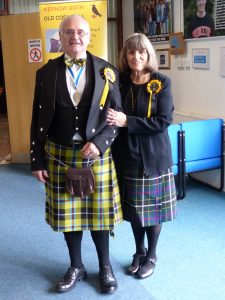 Cornish speaker Leadville with his partner Jacki (right), and their hard-working committee had spent the past year planning the event.The location of the 2019 Winter Festival was the local community college.
So… what was it like?
The morning was informal. People gathered over coffee to meet old friends, to make new ones, and to wander around the school's large gymnasium, where stalls and exhibitions about all things Cornish were set up. There were book stalls, opportunities to learn about the Cornish language, displays from several Old Corwall Societies, and of course there was history a-plenty. Torpoint sits on the estuary of the River Tamar, opposite Plymouth, and there has been a ferry connection for vehicles since 1834. The Torpoint Archives had a hand-built model of one of the first vehicle ferries on display, as well as historical pictures and information about the town.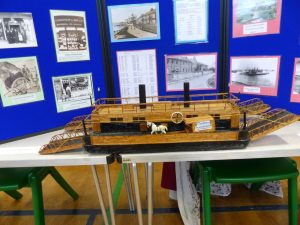 In the afternoon, nearly 200 people gathered in the school hall, where the town crier introduced the colourful opening ceremony, with standards from twenty seven Old Cornwall Societies paraded and then displayed. A lively and varied entertainment followed.
The day included, naturally, a pasty lunch and a saffron bun with afternoon tea.
A very happy and worthwhile day, not just for the Cornish bit of me (by adoption!), but also for the writer bit.
Here's why…
Digging into the past can lead to a wealth of ideas for stories.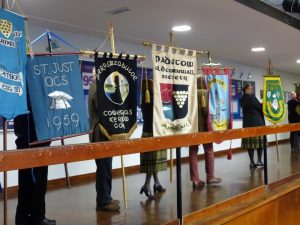 You could start with the discovery of an unsung hero, someone who struggled with a problem and overcame difficulties,
or perhaps there's a well-known person who lived in your town/ county/ area whose story would make interesting reading.
Or maybe you get chatting to someone eccentric who is searching for an old postcard,
or you see someone who seems out of place, who sparks an idea for a story.
FROM INSPIRATION TO STORY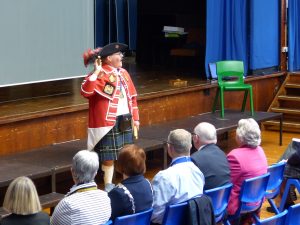 One way to embark on a story is to
Create a character with a flaw
Give him/her a problem
Put an obstruction in his/her way
Work with your character to solve the problem, at the same time aiming for a satisfying, believable end.
FROG: (Pensively):
They put choughs on their banners, Barker, but not frogs or dogs. Bit sad isn't it?